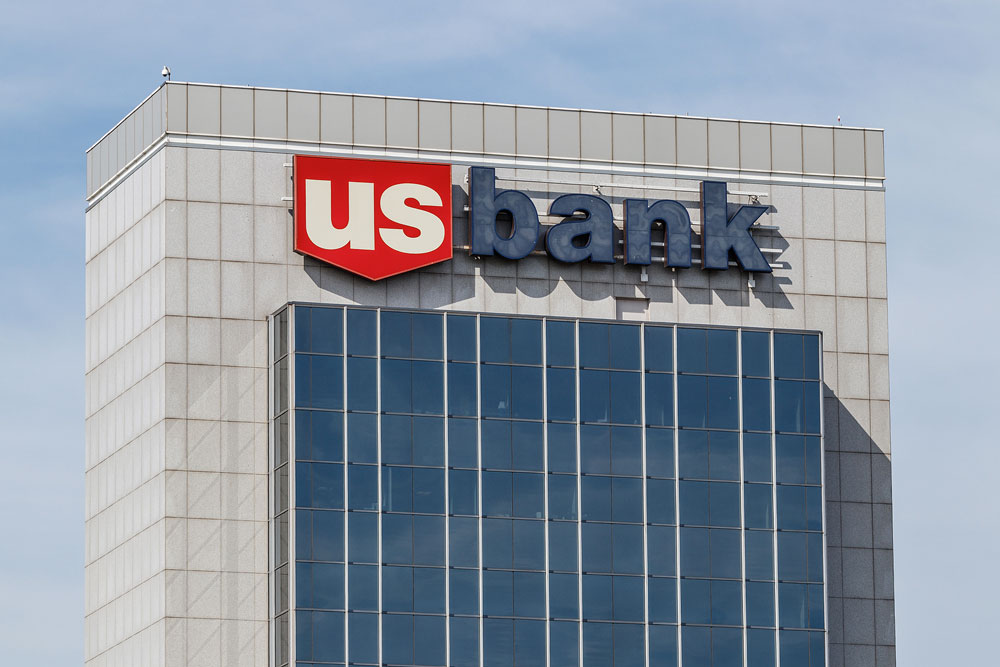 U.S. Bank offers a variety of financial services to all types of clientele. Personal banking services include:
Checking and savings account management
Debit and credit cards
Investment and retirement services
Personal loans
Home loans
Vehicle loans
Online banking
Wealth management services
U.S. Bank also works with businesses, corporations, and institutions, offering payroll management, corporate credit cards, custody solutions, and global corporate trusts.
U.S. Bank Locations
Is there a U.S. Bank near me?
Is there a U.S. Bank branch near me?
Where is the closest U.S. Bank near me?
U.S. Bank has approximately 3,100 locations in the United States. They are primarily concentrated in the West and Midwest regions.
If you'd like to open a savings or checking account, obtain a personal, auto, or home loan, or meet with an investment advisor, you can simply walk in or call your local branch to schedule an appointment. At a banking branch, you can also deposit cash or checks and make withdrawals.
To find the location nearest you, simply scroll to the top of this page and click the "Use Current Location" button on the embedded U.S. Bank Near Me map.
Another option (if you're looking for a branch in a particular city or region) is to head to the U.S. Bank website. Once there, click on the "Locations" tab at the top to navigate to the location finder. Then type in your desired city, state, address, or zip code, and the site will populate a list of locations in the desired area.
Is there a U.S. Bank ATM near me?
Is there a U.S. Bank ATM deposit near me?
U.S. Bank debit cardholders in the United States have access to nearly 5,000 fee-free ATMs nationwide.
Customers can apply for a debit card by logging into their online banking account, calling 855-384-4737, or visiting any U.S. Bank branch. U.S. Bank debit cardholders have the unique option to design their debit card with various graphics, including favorite sports teams logos, scenery, and even other fun designs (like tie-dye, for example).
Using our map at the top of the page, you'll be able to quickly find a branch where you can complete your transaction with the assistance of a teller or an ATM.
If you'd rather visit their website, you can use the location finder (as described above) to locate a nearby ATM by applying the ATM filter. Conversely, you can be sure you're finding a branch office rather than an ATM by using the 'Branch' filter. To determine if the ATM has a deposit feature, please reference their website or call the branch.
Is there U.S. Bank ATM check cashing near me?
So it's your favorite day (payday!), and you're ready to cash that check. Or maybe grandma sent you a birthday card with a check inside, and you're eager to turn it into cold hard cash. Where do you go? To any U.S. Bank branch location, of course!
Every branch is equipped to perform a check-cashing transaction (just be sure to bring your photo I.D. with you). If you're in a hurry, having the check endorsed before you arrive also saves time.
You can either go inside the branch or use the drive-through window (at applicable locations) for assistance. If you'd rather deposit your check into your checking or savings account, you'll also need to fill out a deposit slip, which requires you to write down your account number.
If you don't know your account number, you can find it on your online banking account or ask a teller to look it up for you. Simple as that, you'll walk out of the bank with money in your pocket!
U.S. Bank Hours
What are U.S. Bank hours near me?
Is there a U.S. Bank near me open now?
Most U.S. Bank locations are open Monday through Friday from 9am to 5pm. Some sites may offer later hours through their drive-up window.
On Saturdays, Sundays, and all bank holidays, all U.S. Bank locations are closed. To verify your location's hours, please call or visit their website.
Contact U.S. Bank
If you require further assistance, you can reference the bank's Frequently Asked Questions page to troubleshoot your problem. Otherwise, you can reach out directly to customer service by logging into your online banking account (to send an email) or by calling 800-USBANKS (800-872-2657)
U.S. Bank Jobs
If you would like to apply for a job with U.S. Bank, you can visit their careers page to search and apply for jobs. You can also use this page to learn more about what it's like to work for U.S. Bank.
Information about employee benefits, disability accommodations, and diversity and inclusion are readily available.
U.S. Bank – Background Info
General
U.S. Bank is a public company traded on the New York Stock Exchange under the stock ticker 'USB.'
U.S. Bank believes that relationships are built on trust that is developed every day through every interaction. According to U.S. Bank, their employees are "empowered to do the right thing to ensure they share customers' vision for success." Additionally, they state that they "work as a partner to provide financial products and services that make banking safe, simple, and convenient." Their mission is to help people navigate essential milestones and strengthen their futures.
History
Today, U.S. Bank is the fifth-largest bank in the United States of America. The bank boasts more than 3,100 branches, nearly 70,000 employees, and over $495 billion in assets.
But like most major corporations, U.S. Bank started small. In 1863, First National Bank of Cincinnati opened. Over the years, more regional branches popped up and proliferated across the country. Other predecessors were born during the 19th and 20th centuries as well.
Through a series of mergers at the start of the 21st century, the First National Bank of Cincinnati and its predecessors merged and assumed the U.S. Bank name. Headquarters were established in Minneapolis, Minnesota, where they remain today.
U.S. Bank operates under its parent company, U.S. Bancorp (an American bank holding company). U.S. Bancorp has the second-oldest continuous national charter—Charter #24 was granted in 1863 following the passage of the National Bank Act.
As earlier charters have expired due to bank closures or acquisitions, U.S. Bank's Charter #24 rose from twenty-fourth to second. The oldest national charter is held by Wells Fargo.