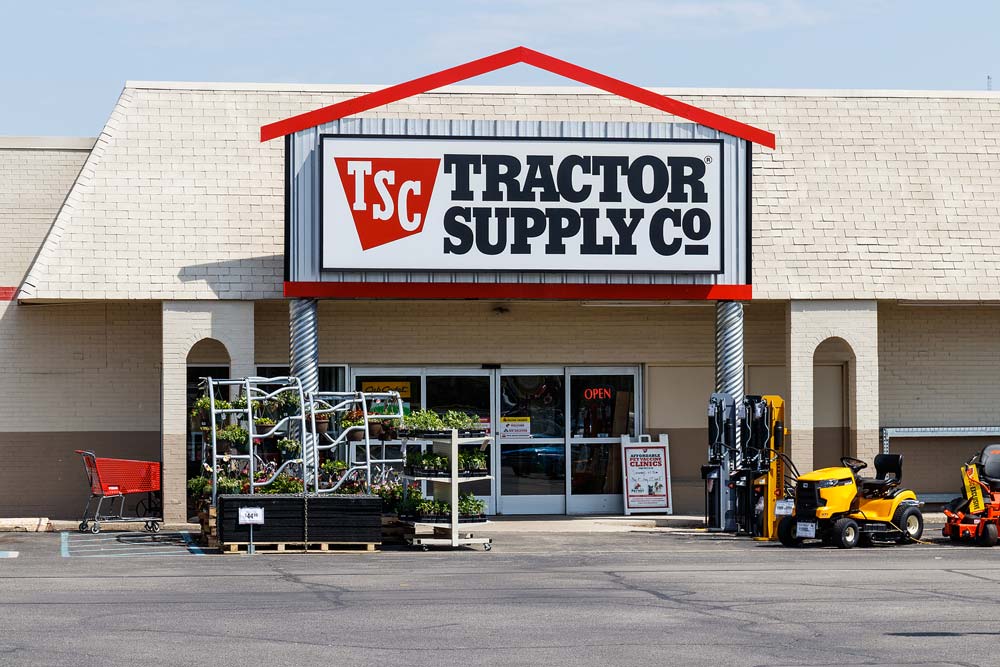 Tractor Supply Company (usually just referred to as 'Tractor Supply') started in Chicago in 1938 as a mail-order business selling tractor parts. Today it has grown to have over 1800 stores all across America (in every state except Alaska), and it sells way more than just tractor parts. Tractor Supply stocks just about everything you need for your home, farm, garden, and family – ironically, except actual tractors.
Tractor Supply Locations Near Me
How can I find a Tractor Supply near me?
Using the map at the top of this page, you can see all the Tractor Supply locations near you. Just make sure your location settings are turned on, then click the search button.
Once you select a location, click "view larger map" in the top left corner of the screen to see directions, exact opening hours, and contact details for that store.
Tractor Supply also has its own store locator. Just type your location into the search bar and click the green 'find' button to find your nearest Tractor Supply.
Tractor Supply Opening Hours
What are common Tractor Supply hours near me?
Monday: 8am – 9pm
Tuesday: 8am – 9pm
Wednesday: 8am – 9pm
Thursday: 8am – 9pm
Friday: 8am – 9pm
Saturday: 8am – 9pm
Sunday: 9am – 7pm
These opening times can vary by location, so it's always recommended to double-check operating hours for your local Tractor Supply before traveling.
Tractor Supply Services
What goods and services does Tractor Supply provide?
Tractor Supply is a one-stop-shop that sells just about everything you and your family need (except tractors). This includes farm and ranch supplies, outdoor living goods, home furnishings, clothes, food, and even toys. We've provided a rough outline of what Tractor Supply sells below, and you can check their online store to see the full range for yourself.
Farm and Ranch Supplies
Tractor Supply doesn't actually sell tractors, but they do sell a wide range of tractor and ATV attachments parts and accessories. They have tools to help with every stage of crop raising, from spraying to harvesting and haying. They also sell livestock equipment, including fences, gates, transporters, netting, shelters, and headgates.
Livestock
There is a range of bedding and feed available for whichever kind of livestock you keep. This extends to poultry and beekeeping, with a selection of coops, pens, and beehives on offer.
Equestrian
You will find everything you need to care for your horses at Tractor Supply. This includes stalls, stable equipment, grooming supplies, accessories, feed, farrier equipment, saddlery, and riding equipment.
Pet Supplies
Similar to livestock, Tractor Supply also has everything you need to care for your pets of all shapes and sizes. Their range of pet supplies extends to cats, dogs, birds, rabbits, fish, and even reptiles.
Garden
Gardening supplies and tools are available to help you care for your garden and lawn. This can include lawnmowers, planters, hoses, greenhouses, and pond accessories.
Tools
Tractor Supply sells tools for every job, including hardware, plumbing, electrical, woodworking, painting, and even cleaning supplies.
Outdoor Living
Everything you need to enjoy the great outdoors! If you want to make the most of your backyard, there are grills, furniture, shelter, heaters, and lighting. There are even outdoor toys and games to keep the whole family happy.
Sporting Goods
If you're going out for a sporting adventure, there is a wide selection of gear for activities such as fishing, hunting, cycling, and boating. Or if you are interested in spending more time in the great outdoors, then there is camping equipment available with everything you could need.
RV, Camper & Truck
If you prefer a camper van to a tent, then you will find tons of accessories such as generators, batteries, fuel tanks, and trailers at Tractor Supply.
Home
Look after your home with a huge selection of furniture and décor. There are also toys for the kids and even food available. Their meat and cheese baskets make great gifts!
Clothing
Tractor Supply sells a range of clothing, shoes, and boots for the whole family.
Tractor Supply Offers
You can sign up to Tractor Supply's 'Neighbours Club' to receive special offers and rewards. It's completely free to sign up, and you can do it in-store, online, or via the tractor supply app. The app is available on both Google Play for Android and the App Store for iPhone.
Tractor Supply Jobs
Is Tractor Supply near me hiring?
Tractor Supply really cares about their employees. They offer medical, dental, and retirement plans (among many other benefits). If you'd like to join the Tractor Supply team, you can browse their listings and apply for jobs on the online career site.
Contact Tractor Supply
What is the phone number of the Tractor Supply near me?
The customer service number for Tractor supply is: 877-718-6750
You can also contact Tractor Supply using their online contact form or by writing them at:
Attn: Customer Solutions Center
TRACTOR SUPPLY COMPANY
5401 Virginia Way
Brentwood, TN 37027
Last but not least! If you want to contact your nearest Tractor Supply store directly, you can find contact details (including the phone number for that branch) using the map at the top of this page. Once you select a location, click "view larger map" in the top left corner of the screen to see the contact details for that store.