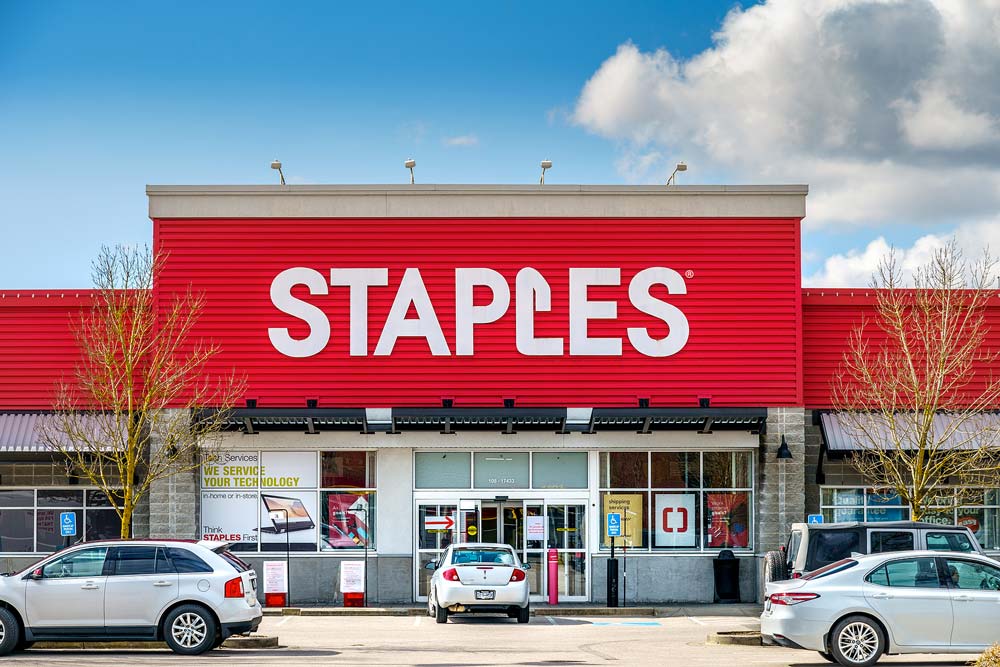 Staples is your one-stop-shop for everything office supplies, printers, computers, and more! Read on to learn more about Staples in our detailed guide.
About Staples
Staples was founded by Leo Kahn and Thomas G. Stemberg in Brighton, Massachusetts, in 1986. Since then, the business has expanded and now has more than 1000 stores across the United States.
Staples focuses on the concept that work and life are closely intertwined. They believe in working smarter, not harder, and emphasize that there are always more productive ways to get things done. With this in mind, they feature products that are intelligently designed and high quality. Their team offers a wealth of expertise, promoting services that are designed to make a businessperson's life easier.
Staples Corporate Responsibility
The Environment
Staples has a strong sense of corporate responsibility that revolves around environmental impact and sustainability. Speaking of which, they have made an ongoing commitment to reduce their ecological footprint. This includes 30% of their stocked products leveraging sustainable design, a 30% reduction in their carbon emissions, and the collection of more than 48 million pounds of e-waste.
Staples also focuses on recycling, reducing landfills, and using renewable energy, all of which help ensure that the choices of today don't negatively affect the world of tomorrow.
Staples is also heavily involved in the community and have supported numerous organizations that promote health and education. In 2017, they participated in the Cradles to Crayons Backpack-A-Thon, where 20,000 backpacks (stuffed with school supplies) were given to children from economically disadvantaged backgrounds.
Staples also hosted the Staples Heart Walk, where employees and volunteers raised more than $65,000 for the American Heart Association. This is just a small sample of the events and organizations that Staples supports to ensure the health and happiness of their communities.
Staples Services
What do they offer at a Staples store near me?
Staples offers a variety of products (available to purchase in-store or online), which include:
Office supplies
Printer ink and toner
Paper
Computers and accessories
Cleaning supplies
Furniture
Printers and scanners
Safety supplies
Electronics for the office
Mailing and shipping supplies
Food and appliances for the breakroom
Marketing materials
Maintenance materials
In addition to products, Staples also offers many services which include:
Printing
General printing
Business cards
Invitations
Banners
Posters
Marketing materials
Promotional products
Photocopying
General copies
Presentations and manuals
Blueprints
Business
Document shredding
Scanning
Laminating
Dedicated workstations
Shipping services
TSA precheck
Finance services
Direct mail
Co-working space
Tech
Virus removal and protection
Software installation
Computer setup
Tech support
Data backup and recovery
Phone and tablet repairs
Sustainability
Recycling
Eco services
Sustainable programs
Office
Cleaning and maintenance
IT and security
Admin support
Office relocation
Furniture
Furniture protection
Furniture assembly
With this extensive range of services, Staples is an industry leader when it comes to anything office/work-related.
Staples Locations
Where are Staples locations near me?
It's easy to find a Staples near you with any of the following steps.
Simply scroll to the top of this page and activate our embedded search! This will populate the map with locations near you.
On the Staples website, click on the "Store Finder" tab. From there, you can either search stores by typing in your address or using GPS location services to find your nearest store.
When ordering online, you can find your closest store by clicking on the "Set Your Store" tab at the top of the homepage. This will bring up a location box where you can type in your address and find your closest Staples.
Staples Opening Hours
What are Staples hours near me?
Generally speaking, Staples hours are as follows:
8am to 9pm (Monday to Friday)
9am to 9pm (Saturdays)
10am to 6pm (Sundays and public holidays)
Please keep in mind that Staples' operating hours depend on each store. This can be confirmed by following the instructions under our "Staples Locations" section.
Staples Careers
Are there Staples jobs near me?
If you're looking for a job at Staples, you'll be pleased to hear that Staples always prioritizes a safe environment. They have a commitment to diversity in the workplace and actively promote an inclusive working atmosphere.
Working at Staples also has many perks, including:
Health insurance
Flexible spending account
Disability insurance
401k contributions
Life insurance
Paid leave
Counseling services
Store and online discounts
Adoption assistance
Benefits for part-time employees
You can find Staples jobs near you by visiting their careers website (where you can search for careers by location or type of employment).
Staples Competitors
Should I use Staples or Office Depot near me?
Staples and Office Depot have a reasonably similar business model, providing office products and all-inclusive services designed to make work easier for executives and employees alike.
Here's a comparison of the two stores to help with your decision.
Staples advantages:
A more recognizable and profitable brand
Wider product range
Largest and fastest supply chain
More competitive prices in general
Office Depot advantages:
More discounts and promotions
Student discounts
Longer return policy
More competitive shipping
Hopefully, this brief comparison helps you decide if you should visit an Office Depot or Staples near you. Either way, you should be in good hands.
Should I use Staples or OfficeMax near me?
Since 2013, OfficeMax has been a subsidiary of Office Depot and is, therefore, now part of the same brand.
Staples Contact Information
There are various ways to contact Staples:
Staples Expert: 1 (800) 333-3330 – Monday to Friday 8 am – 10 pm EST, Saturday to Sunday 9 am – 8 pm EST
Or for Staples Advantage Members:
Customer Representative: 1-877-826-7755 – Monday to Friday 8am to 8pm EST
Technical Support: 1-877-826-7755 – Monday to Friday 8am to 8pm EST