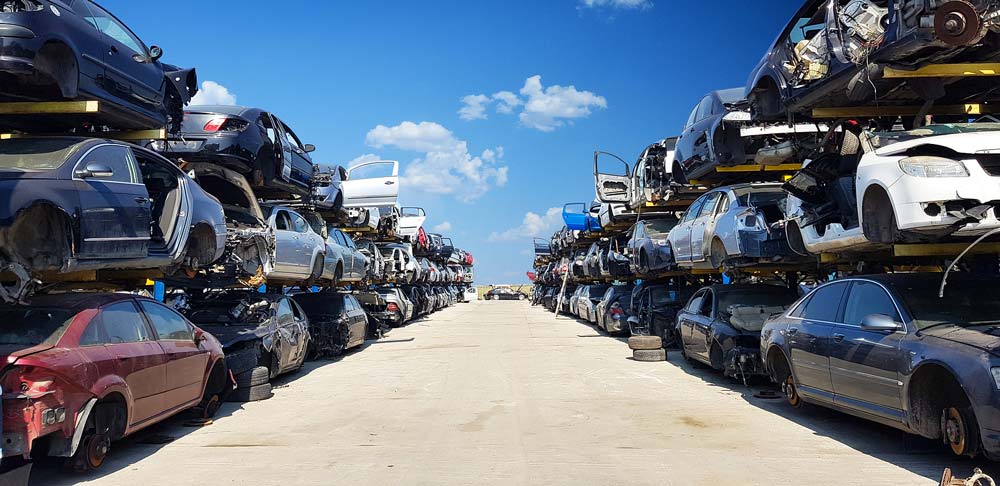 Did your refrigerator stop running? Has your car been totaled? Is your RV beyond the point of repair?
If you answered "yes" to any of these questions, then there's a good chance you're wondering, "Are there junkyards near me?".
A junkyard is where people take large objects (such as old furniture or machines) that they no longer want or vehicles they wish to recycle. Sometimes junkyards are also referred to as wrecking yards, salvage yards, or scrap yards. 
Click the "Use Current Location" button on the map above to see junkyards near you. If you're looking for a specific type of junkyard (such as an auto recycler or one that sells parts), read on to explore the embedded maps for those particular types of junkyards.
Automotive Junkyards
Are there auto recyclers near me?
If you are considering getting rid of an old vehicle and are looking for "car recyclers near me," then you may want to consider recycling your vehicle at a nearby junkyard. Many junkyards sell scrap metal from cars to metal-recycling companies—while the usable parts are available for purchase by everyday consumers. And by selling your old car to a junkyard, you are helping the environment!
The US generates an enormous amount of waste and junk that needs to be disposed of every year—including roughly 4 million cars. Despite this, the American steel industry is the cleanest and most energy-efficient of the leading steel industries in the world. This is primarily due to the high rate of steel that is recycled and remade into new cars, bridges, roof tiles, and solar panels—with junkyards playing a vital role in this resource conservation. 
But it's not only steel that junkyards recycle. Approximately 25 million tons of materials are recycled from old vehicles in the US every year, including aluminum, rubber, oil, and gasoline. Depending on the make and model, up to 95% of a car can be reused or recycled.
Junkyards that sell parts
Are there junkyards near me that sell parts?
Not everything sold to junkyards is scraped and recycled into new products. Many junkyards, especially those operating as automotive recyclers, will test components and sell functional parts to consumers for a fraction of the price of new ones. In fact, customers can buy auto parts from junkyards for anywhere from 20% to 80% less than comparable new auto parts.
"U pull it" Junkyards
Are there junkyards near me where I can search for parts?
Some junkyards operate as a "U pull it" junkyard—where customers can search through fields of derelict vehicles to find parts they remove themselves. This can feel like a real-life treasure hunt and a right of passage for many "motorheads." 
While some junkyards still have this system, many have moved to a more modern and sustainable system of maintaining an online parts inventory for customers to browse. The online-inventory model has the benefits of convenience and peace of mind knowing that all listed parts have been tested and handled by professionally trained staff. Still, sometimes nothing beats the thrill of the search!
Motorcycle Junkyards
Are there motorcycle junkyards near me?
Not all junkyards are for cars. Some junkyards specialize in salvaging motorcycles and similar light-weight vehicles such as ATVs, dirt bikes, mopeds, and scooters. Motorcycle junkyards operate similarly to automotive junkyards—with the junkyard recycling broken motorcycles parts purchased from individuals or insurance companies while selling the working parts at reduced prices.
RV Junkyards
Are there RV junkyards near me?
While RVs and RV parts can sometimes be found in automotive junkyards, there are also specialty junkyards for motorhomes, trailers, pop-ups, and recreational vehicles. As RV maintenance can average $500 to $1,000 a year, RV salvage yards can be a great place to save money on parts.
Local Junkyards
Are there local junkyards near me?
The good news for those looking to support their local community is that most junkyards are locally-owned small businesses. In fact, about 75% of all automotive recycling companies employ approximately 10 people. Despite that, the salvage industry is still quite large, with the US market being worth around $32 billion a year and spread out over approximately 9,000 different companies.