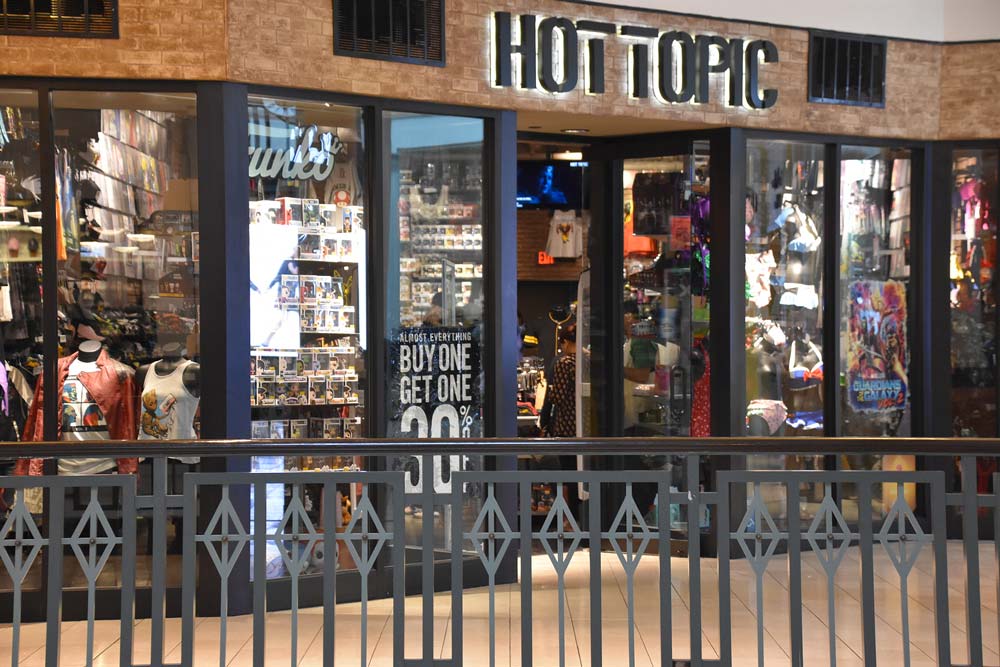 Hot Topic was founded by Orv Madden and his wife, LeAnn, in 1989. The pair leveraged their life savings to fill their garage with merch and open their very first store in Montclair, California.
From the very beginning, Hot Topic catered directly to the alternative community. They sold a range of accessories like spiked bracelets, belts, and all things skull or crucifix related! Over the years, they added band t-shirts to their arsenal and quickly grew in popularity.
Today, Hot Topic is always on-trend (even ahead of the curve) when it comes to pop culture. They have almost 700 stores across the United States and Canada, as well as a thriving online business.
Hot Topic Locations Near Me
How can I find a Hot Topic near me?
By using the map at the top of this page, you can see all Hot Topic locations near you. Once you select a location, click "view larger map" in the top left corner of the screen to see directions, exact opening hours, and contact details for that store.
Hot Topic also has a store locator. Just type your location into the search bar and click the 'search' button to find your nearest Hot Topic.
Hot Topic Opening Hours
What are Hot Topic's hours near me?
Monday: 12pm – 7pm
Tuesday: 12pm – 7pm
Wednesday: 12pm – 7pm
Thursday: 12pm – 7pm
Friday: 12pm – 7pm
Saturday: 11am – 7pm
Sunday: 12pm – 6pm
Please note that these operating hours vary by location. It's always recommended to check the exact times for your nearest Hot Topic store before heading that way.
Hot Topic Products
Hot Topic is mainly geared towards teens and young adults (especially anyone who identifies as part of the 'alternative scene'). They have a wide range of clothing for people of all shapes, sizes, and styles. One of Hot Topic's biggest draws is that they have such a unique line of products. Below, we have listed some of their most popular categories.
Women's Clothing and Accessories
Hot Topic's women's clothing and accessories cater to a variety of styles: dark and gothic, cute and floral, punk and grunge, skulls, or even pastels! They sell everything you can think of to complete your wardrobe with style. This includes jeans, leggings, dresses, tops, hoodies, shoes, pajamas, bags, jewelry, and even fragrances.
Men's Clothing and Accessories
Hot Topic also offers a full range of men's clothing and accessories. Whether you are shopping for yourself, looking for a gift, dressing up, or dressing down, you are bound to find something of interest. Hot Topic boasts a variety of jeans, t-shirts, jackets, backpack, beanies, and even socks.
Plus-Sized Clothing
Hot Topic has a substantial supply of plus-sized clothing! Many of the items are comparable to what you'd see in the general women's section, but with a more flattering cut for a curvier figure.
Pop Culture
Hot Topic is always on point with what's hot in the world of pop culture. They have licenses with tons of TV shows, movies, and even video games… so whatever is trending – Hot Topic probably has the t-shirt, pajamas, or hoodie for you! In addition to the common names like 'Harry Potter', 'Pokemon', 'Star Wars', 'Disney' and 'Spongebob Squarepants', you'll also find some hidden jewels like 'Dawson's Creek', 'Cheers' and 'Golden Girls'. This is the definition of something for everyone.
Band Merch
Hot Topic has been selling band tees since 1991. Today, you'll find both classics and new favorites that suit both men and women. As well as tees, you'll find backpacks, bags, beanies, hoodies, and tons of other collectibles for your favorite bands.
Hot Topic Offers
Hot Topic frequently has different offers available: You can check out current deals on their website. They also have a loyalty club, the Hot Topic Guest List. It's free to join, and there are a ton of benefits. You can earn points on everything you buy to put towards your next Hot Topic purchase. You need to be 13 or older to join and can sign up in-store or online.
Hot Topic Online
If your nearest Hot Topic is too far away (or you prefer to shop online), Hot Topic also has an online store where you can buy pretty much everything you can find in-store. They offer fast and affordable shipping to all 50 states.
Hot Topic Jobs
Is Hot Topic hiring near me?
There are a lot of benefits to working at Hot Topic. Aside from just working in an excellent and unique environment, they offer a wide range of employee benefits (including medical and dental). You can browse and apply for jobs on their careers site.
Contact Hot Topic
What is Hot Topic's phone number?
You can contact Hot Topic using their online contact form, or you can call customer service at 800-892-8674. Lines are open daily from 7am – 5pm PST.
If you'd prefer to contact your local Hot Topic store directly, you can find contact details for nearby stores by using the map at the top of this page. Once you select a location, click "view larger map" in the top left corner of the screen to see the contact details for that particular store.