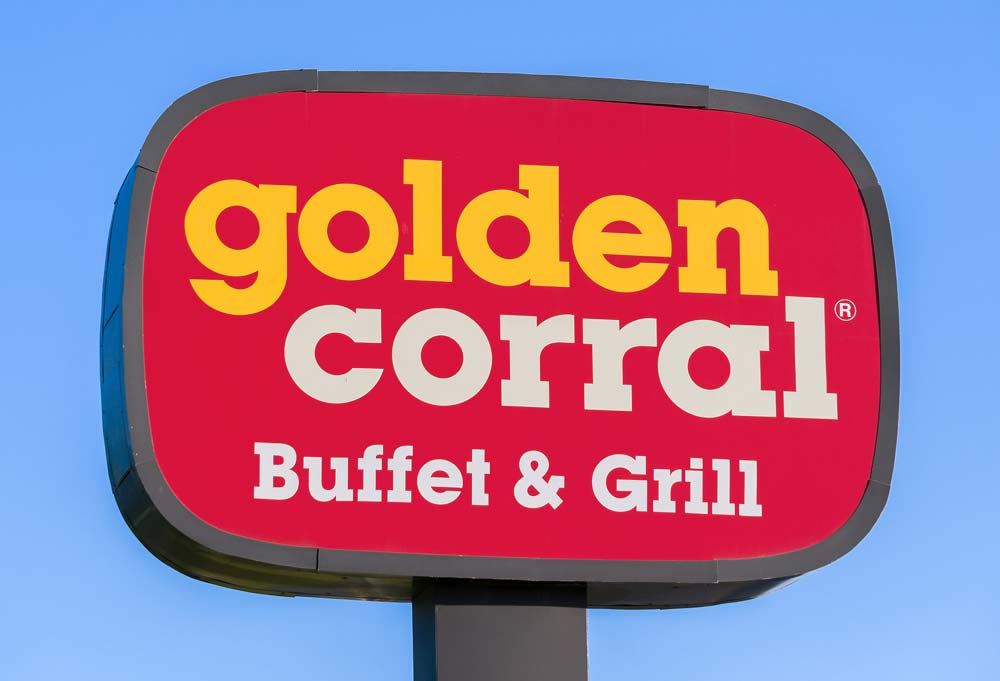 There are some days when a simple three-course meal just won't cut it. Whether it's your birthday or a day you're simply craving multiple types of food, Golden Corral is sure to satisfy your taste buds' needs. The buffet & grill is open for breakfast, brunch, lunch, and dinner, serving over 300 menu items before your eyes.
If you'd like to learn more about Golden Corral's history, locations, prices, and menu, you've come to the right place.
About Golden Corral
In 1971, James H. Maynard and William F. Carl came up with the idea of Golden Corral, a restaurant that would offer steak and potatoes at an affordable price. Golden Corral's family steakhouse then opened in Fayetteville, North Carolina, in 1973. The chain grew over the following decade, and by the mid-1980s, guests' requests for additional menu items lead the restaurant to reinvent itself as a buffet & grill.
Today, Golden Corral is known as America's number one buffet & grill, with over 489 restaurants in 41 states.
Golden Corral Locations
Is there a Golden Corral near me?
How can I find Golden Corral locations near me?
To find locations near you, visit the Golden Corral website and click on the "Find Locations" link. Then, enter your address in the search box and click on the search icon. This will populate the map with Golden Corral locations in the area. When you click on each marker, you'll find the location details, directions, and phone number.
Use Google Maps to find a Golden Corral near you. The first step is to turn on your location services or manually enter your address. Then, search for Golden Corral, and the map will populate with locations near you.
Golden Corral Prices
What are the Golden Corral prices near me?
Golden Corral prides itself on being affordable. In fact, it's cheaper to eat at Golden Corral than at most restaurants, where you would only receive one entrée. That's good news for Golden Corral guests, who can enjoy a variety of dishes without breaking the bank.
Golden Corral prices vary based on age, location, day of the week, and time of the day. Typically, breakfast and lunch cost about $8.69 for adults, and dinner costs about $11.99. Seniors and kids eat for even less.
We recommend calling your local Golden Corral to confirm prices.
Golden Corral Hours
What are Golden Corral breakfast hours near me?
Golden Corral opening hours vary by location.
The all-you-can-eat buffet & grill typically serves breakfast from 7:30AM until 11:00AM. However, some Golden Corral locations serve breakfast only on weekends, so we recommend calling ahead to ensure sure they are open.
What are the Golden Corral hours near me?
Besides breakfast, Golden Corral also offers brunch, lunch, and dinner.
Brunch is available daily from 9:30AM to 2:00PM.
Typical lunch hours are 11:00AM to 4:00PM, and dinner is served from 4:00PM until closing time. Again, closing times vary by location, so we recommend conducting a Google search of your specific location (or calling the buffet ahead of time) to confirm their hours.
What is on the Golden Corral menu near me?
Golden Corral has over 300 items, including appetizers, entrees, salads, and desserts. They offer vegetarian items, as well as dishes to satisfy any meat lover.
We've listed some of the great menu options available at Golden Corral below.
Breakfast:
Omelet Station
Who doesn't love a good omelet in the morning? At Golden Corral, you can create your own Omelet, filled with Bacon Bits, Diced Ham, Green Peppers, Mushrooms, Diced Onions, and Sausage Crumbles.
Ice Cream Bar
An Ice Cream Bar is usually everyone's dream, isn't it? Golden Corral offers both vanilla and chocolate soft-serve ice cream with toppings, such as Chopped Peanuts, Gummy Bears, Caramel Sauce, and Hot Fudge.
Hot Breakfast Favorites
Golden Corral has every hot breakfast item you could want, including Golden Waffles, Skillet Hash Browns, Cinnamon Rolls, French Toast, Sausage Patties, and of course, Bacon.
Lunch:
Burger Bar
Build your custom burger at the Burger Bar. You'll start with a Steakburger, and can add toppings such as Lettuce, Bacon, Cheese, and Pickles.
Hot Lunch Favorites
Need some protein in your diet? Golden Corral has chicken prepared in every imaginable way (grilled, fried, rotisserie, smoked), along with various types of pork and fish.
Salad Bar
The Salad Bar at Golden Corral is a salad lover's paradise. It features Broccoli, Diced Eggs, Peaches, Pears, Dried Cranberries, Chicken Strips, and so much more.
Baked Goods
Got a sweet tooth? So do we! It's important to be extra careful when you're at Golden Corral because they have a plethora of desserts to choose from. Some of the decadent items include brownies, pies, and an assortment of cakes.
Dinner:
Hot Dinner Favorites
Dinner is where you'll notice many of the Golden Corral signature dishes, such as Sirloin Steak, Baked Fish, and Golden Delicious Shrimp.
Golden Corral Jobs
Are there Golden Corral jobs near me?
Golden Corral is always hiring restaurant team members, such as cooks, servers, and hosts. If you're interested in a job at Golden Corral, head to their website and click on the "Careers" link (found at the bottom of the page under "Company"). This will take you to a page where you can choose to learn more about the culture of the company and the positions available. You can also apply for jobs by clicking on "Apply Now."
Golden Corral Phone Number
What is the Golden Corral phone number near me?
To find the phone number of a Golden Corral near you, head to the Golden Corral restaurant locator on their website where you'll find each location's specific number under restaurant details.
If you have questions or complaints for Golden Corral's customer service, you can contact them at 800-284-5673.