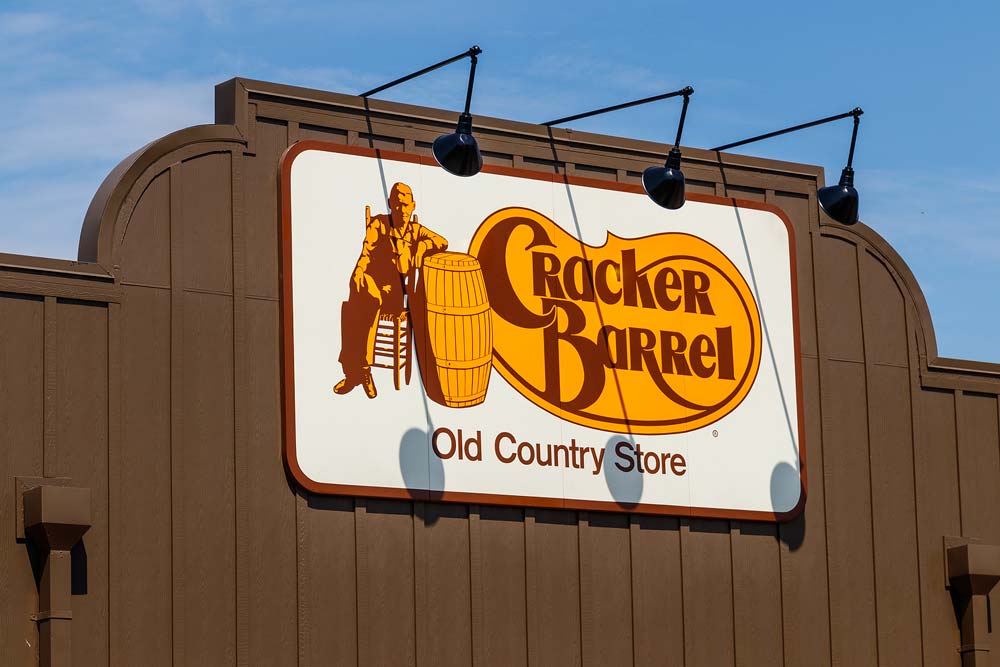 Cracker Barrel Old Country Store, commonly referred to as just "Cracker Barrel," is a charming sit-down chain restaurant with over 660 locations in 45 different states. Cracker Barrel is well known for their delicious homestyle menu offerings and southern hospitality, as well as their attached country gift shops (which guests can browse before or after their meal). Read on for more information on Cracker Barrel's menu, locations, and rich history.
About Cracker Barrel
In the late 1960's, the US interstate system (while still in the beginning phases) was seeing an uptick in traffic. People were traveling further and more frequently on the roadways than ever before. Cracker Barrel's founder, a Tennessee man named Dan Evins, was on a mission to make the United States' expanding interstates a more hospitable place for travelers. He dreamed of a place where weary truck drivers, vacationers, and local families alike could enjoy a hearty southern style meal at a fair price. So, in 1969, Cracker Barrel was established.
Cracker Barrel locations are approximately 10,000 square feet and sit on nearly 2 acres of land. This large size is needed to house both a fully functioning restaurant and a well-stocked country store. The front of the building has a "porch" area where guests can sit in wooden rocking chairs and play a game of chess, or chat while enjoying the weather. When you walk in, you find yourself amidst racks of clothing, displays of mugs and other housewares, shelves of homemade candies and snacks, and toys, all of which are available for purchase. As you meander through the aisles, you'll eventually make your way to the restaurant side of the building, where you will be seated by a hostess.
A distinct feature of Cracker Barrel restaurants is the decor style. Antique tools, photographs, signs, and taxidermy cover the walls. Many people assume that these antiques are replicas, but in fact, they are entirely authentic. Since the first Cracker Barrel opened in 1969, all locations have been decorated by the same family–the Singleton family. When Mr. Evins opened the first location, he asked Don and Kathleen Singleton, two local antique store owners, to help him decorate the place like an old country store. As Evins opened more locations, he continued to ask the couple to help him decorate. Today, their son Larry Singleton is in charge of finding and restoring antiques for the walls of Cracker Barrel restaurants.
A not-so-well-known fact about Cracker Barrel is that once upon a time, they sold gasoline! Before Dan Evins was a restaurant owner, he was a sales representative for Shell Oil, who was tasked with finding ways to increase gasoline sales. Providing a refueling station at the restaurants was a genius way to drive Shell sales while also increasing business for Cracker Barrel. Although gas pumps are no longer functioning at any of their locations, 32 locations do have electric vehicle charging stations.
Cracker Barrel Locations
Where is the closest Cracker Barrel restaurant near me?
How can I find a Cracker Barrel near me?
Given that Cracker Barrel was intended to be a rest spot for travelers, all early locations were built right off of major highway exits. Today, many sites are still near these off-ramps, but due to popularity with families, some have been developed elsewhere. Here are a few ways to find a Cracker Barrel near you:
Scroll to the top of this page and use the available map to find the location nearest you. If you click on a red marker, you will be provided with the restaurant's address, as well as links to get directions and read reviews of the location.
Visit the Cracker Barrel website and click on "Find a Cracker Barrel" at the top. Then enter your city, state, or ZIP code, or click the "Use My Location" button. This will generate a list of nearby locations for you to choose from.
Cracker Barrel Hours
What are Cracker Barrel hours near me?
Cracker Barrel is open seven days a week, except for Christmas Day. Most locations open at 7 a.m. and close at 9 p.m. Hours may vary by location, so it is best to check their website or to call ahead to verify their hours.
Cracker Barrel Ordering Options
Is there Cracker Barrel delivery near me?
Delivery options are available through 3rd party services such as DoorDash, Postmates, Grub Hub, and Uber Eats. In some locations, delivery is available directly through Cracker Barrel.
Is there Cracker Barrel to go near me?
Cracker Barrel does offer carryout and curbside pick-up, which is an excellent option for those wanting to eat in the comfort of their own home without paying a delivery fee. To place an order for carryout or curbside pick-up, start by navigating to the Cracker Barrel website and clicking on the "Order Online" button. This will take you to a categorized menu broken down by meal type: breakfast, lunch, dinner, "Family Meal Deals," "Take 'n Bake," or dessert. Click on a tab, and you will see pictures, prices, and nutritional content for all the menu items in that category. Once you find what you like, choose the necessary customizations, and click "Order." After that, all that's left to do is select a pickup time and input your personal information. You can either pay online or pay when you pick up.
What is on the Cracker Barrel menu near me?
Cracker Barrel offers a hearty and flavorful breakfast, lunch, and dinner options. Below you will find a brief overview of their menu.
Breakfast
Breakfast is served just how you like it at Cracker Barrel. If you're in the mood for eggs, they are cooked to order and served up with sides of your choice. Side options include hashbrown casserole, fried apples, bacon, country ham, sausage patties, and a variety of toasts and warm breads. Also on the menu are pancakes, French toast, and an assortment of healthier fare.
Lunch and Dinner
Country Fried Steak, Turkey n' Dressing, meatloaf, pot roast, and fish fry remain ever-popular options at Cracker Barrel, but equally famous are their Chicken n' Dumplings and Southern Fried Chicken. Various beef, chicken, ham, pork, and fish options are also on the menu. Side dishes are all prepared in a traditional southern way—Country Green Beans, mashed potatoes, mac n' cheese, and cornbread dressing are a few crowd favorites.
If you're looking to dine on the lighter side, Cracker Barrel offers several different salads, including the Homestyle Chicken Salad, house salad, and chef salad.
Dessert
Cracker Barrel offers some sweet country classics on their dessert menu. Buttermilk pie, Double Chocolate Fudge Coca-Cola Cake, fruit cobbler, baked apple dumplin', and a no sugar added apple pie are all on the table. One of these is sure to satisfy your sweet tooth!
Catering
Need to feed a crowd? Cracker Barrel catering, cleverly dubbed "southern fare made to share," may be your perfect solution! Catering orders are complete with complimentary serving utensils, individual cutlery, plates, and a disposable tablecloth. The catering menu, which is easily accessed on their website, starts at a serving size of six but can be increased to meet the needs of a larger group. Breakfast, lunch, and dinner options are available, ranging from "Grab 'n Go" style to classic entrées. You can also add on desserts and gallon jugs of various beverages, such as their freshly brewed iced teas. Visit their website to view all ordering options.
Cracker Barrel Old Country Store
Is there a Cracker Barrel Old Country Store near me?
What is sold at the Cracker Barrel store near me?
Attached to every Cracker Barrel restaurant is a quaint little country store that is packed with tons of items you won't find anywhere else. Patrons are free to browse the store while they wait to be seated or to stick around after their meal to shop. Cracker Barrel outdoor furniture is a hot commodity that sometimes draws in customers who are only interested in shopping rather than dining. Another trendy purchase is their famous Peg Game, which sits atop every table in the restaurant entertaining and puzzling thousands of guests.
Online orders can be placed by navigating their website to the "Shop" tab. Departments include Clothing & Accessories, Home & Furniture, Food & Candy, Toys & Games, Personal Care, Music, Movies & Books, Nostalgic Electronics, Military, and Sports Fans. With such a vast array of products available, everyone is sure to find something they love! Orders over $100 ship for free and the website often runs coupon deals.
Sources:
https://crackerbarrel.com/
https://www.countryliving.com/food-drinks/g2722/things-you-didnt-know-about-cracker-barrel/
https://doyouremember.com/60497/13-fun-facts-didnt-know-cracker-barrel
https://www.tasteofhome.com/collection/cracker-barrel-fun-facts/