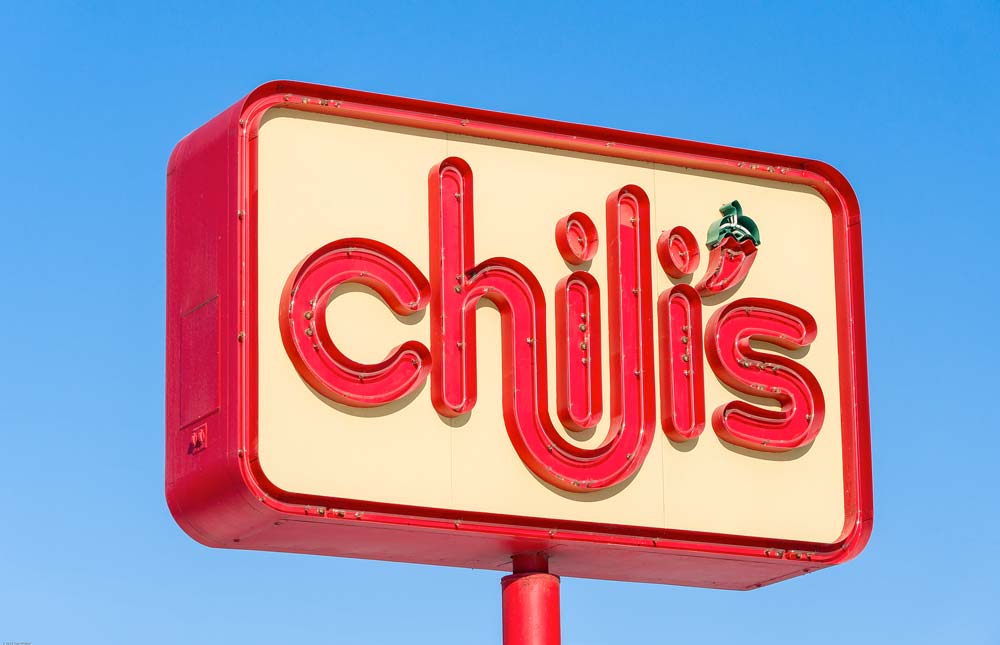 Chili's Grill and Bar, commonly referred to as just "Chili's", is a popular chain restaurant with over a thousand locations worldwide. They offer a robust menu of American dishes and fresh Tex-Mex flavors.
The extensive menu and casual (yet inviting) dining room makes Chili's the perfect choice for families and groups of friends. Rest assured, if you're flying solo, the bar is still a great place to enjoy a delicious meal along with a beer or cocktail. Read on for more information on Chili's menu, locations, and rich history.
About Chili's Grill and Bar
Chili's founder Larry Lavine had a dream when he opened the first Chili's location in Dallas, Texas, in 1975. His dream was to "create a place you'd want to go to hang out with good friends over a burger and a beer" and to "offer a genuine Southwest spirit filled with positive energy". Lavine converted an old post office into a fully functioning funky little restaurant.
The original menu was actually minuscule compared to today's menu. From 1975-1978, Chili's only offered a couple of styles of chili, chili tacos, a handful of different hamburgers, and three drink options. The original Chili's location has since been torn down; however, if you order a bowl of Terlingua Chili, you'll be enjoying the original recipe that was crafted by Larry Levine in the 1970's.
Over the years, Chili's restaurant quickly gained popularity and began expanding. By 1983, 23 different locations had popped up in six different states. Twenty years ago, Chili's opened in Mexico, and in 2004 the chain opened their first location in Europe. Today there are over 1,600 locations in 32 different countries.
A fun, not-so-well-known fact about Chili's is that every Chili's location has a red and green painted picture hanging upside down somewhere in the restaurant. If you're dining in, have fun with your group by making it a competition to see who can find it first.
Chili's Locations
Where is the closest Chili's restaurant near me?
How can I find a Chili's bar and grill near me?
Craving a delicious burger, baby back ribs, or sizzling fajitas, but aren't sure where the nearest Chili's is? Here are a few ways to find a Chili's near you:
Scroll to the top of this page and use the available map to find the location nearest you. If you click on an individual pin, you will be provided with the restaurant's address, as well as links to get directions and read reviews of the location.
Visit the Chili's website and click on the "Locations" tab at the top, or simply type the web address chilis.com/locations into your browser. Once there, you can type in your city, state, ZIP code, or address, or simply click the "Use My Current Location" button. This will generate a list of nearby locations for you to choose from.
Use Google Maps on your smartphone or another device by searching for "Chili's". For this to work, you must ensure your location services are turned on.
Chili's Hours
What are Chili's hours near me?
Chili's is open seven days a week, except for major holidays such as Thanksgiving Day and Christmas. Most locations open at 11 a.m. and close at 10 p.m. (or later, depending on the day of the week). Hours may vary by location, so it is best to check their website or to call ahead to verify hours.
When is Chili's happy hour near me?
Chili's restaurants host a happy hour for their guests each day, and lucky for you, it lasts longer than an hour! This "happy hour" isn't a happy hour in the typical sense of the term, but rather a block of time when guests can order drinks and dishes at a discount. Think $3 beers and $6 boneless wings, and so much more! Hours and specials vary by location and day, so be sure to check your location's website for further details.
Chili's Ordering Options
Is there Chili's delivery near me?
Select Chili's locations offer free delivery on orders over $15, and other locations offer delivery through their exclusive partnership with DoorDash. To see what type of delivery and pick up options are available to you, please navigate to their website's "Locations" feature and click on "Details"—here you can place an order by clicking "Order Now". You can also place your delivery order directly through the DoorDash app.
Is there Chili's to go near me?
Chili's does offer carryout and curbside pick-up, which is an excellent option for those wanting to eat in the comfort of their own home without paying a delivery fee. To place an order for carryout or curbside pick-up, start by navigating to the Chili's website and clicking on the "Order Now" tab at the top. This will take you to a categorized menu with options such as "Ribs & Steak", "Fajitas", "Salads, Soups, and Chilis", "Appetizers", "To-Go Alcohol", and others. Click on a tab, and you will see pictures, prices, and nutritional content for all the menu items in that category. Once you find what you like, simply choose the necessary customizations and click "Order". After that, all that's left to do is select a pickup time and input your personal information. You can either pay online or pay when you pick up.
What is on the Chili's menu near me?
Chili's offers a wide variety of dishes that are sure to satisfy. Below you will find a brief overview of their American and Tex-Mex infused menu.
Appetizers
Made to share, and full of flavor! Appetizers such as Southwestern Eggrolls, Texas Cheese Fries, and Loaded Boneless Wings are unique to Chili's and quintessential of their brand. Other appetizers such as their Awesome Blossom Petals, Fried Pickles, and Crispy Cheddar Bites are fairly standard bar food but remain tasty crowd-pleasers. Dishes of salsa, guacamole, and specialty queso can also be ordered for the table.
Main Course
Fajitas, Tacos, and Quesadillas remain an ever-popular option at Chili's. Equally famous are their "Big Mouth Burgers," with toppings such as smoked brisket, avocado, queso, and sautéed mushrooms and onions. Chili's also offers baby back ribs that are smoked in-house over pecan wood, as well as USDA steaks. Chicken and seafood dishes, sandwiches, and sides such as Roasted Street Corn, steamed broccoli, and mashed potatoes are also on the menu.
If you're looking to dine on the lighter side, Chilis offers several different salads, including the Santa Fe Chicken Salad and the Quesadilla Explosion Salad. They also have a "Guiltless Grill" section on the menu, which features several mouth-watering dishes that have all the flavor, but only 650 calories or fewer!
Dessert
Chili's offers a Molten Chocolate Cake, Cheesecake, Paradise Pie, and Skillet Chocolate Chip Cookie on their dessert menu. One of these is sure to satisfy your sweet tooth!
Catering
Love Chili's? Need to feed a crowd? Their Party Platters are the perfect solution. Small Party Platters serve 4, and large Party Platters serve 6-8. Visit their website to view ordering options.
Chili's Rewards
Chili's Rewards members enjoy numerous benefits, including personalized rewards, free Wi-Fi, and a free dessert on their birthday. If you're interested in signing up for Chili's rewards, you can go to www.chilis.com/rewards, or you can sign up using the kiosk at your table while you dine in.
Chili's also has a program for frequent diners called Chili's Regulars. To be a Chili's Regular, you must visit a participating location at least once every sixty days. Chili's Regulars enjoy free chips and salsa or a complimentary non-alcoholic beverage on every visit.
Sources:
https://www.chilis.com
https://www.chilisjobs.com/our-story/
https://www.thedailymeal.com/eat/15-things-you-didn-t-know-about-chili-s-slideshow
https://www.fool.com/investing/general/2013/12/07/a-few-things-you-may-not-know-about-chilis.aspx