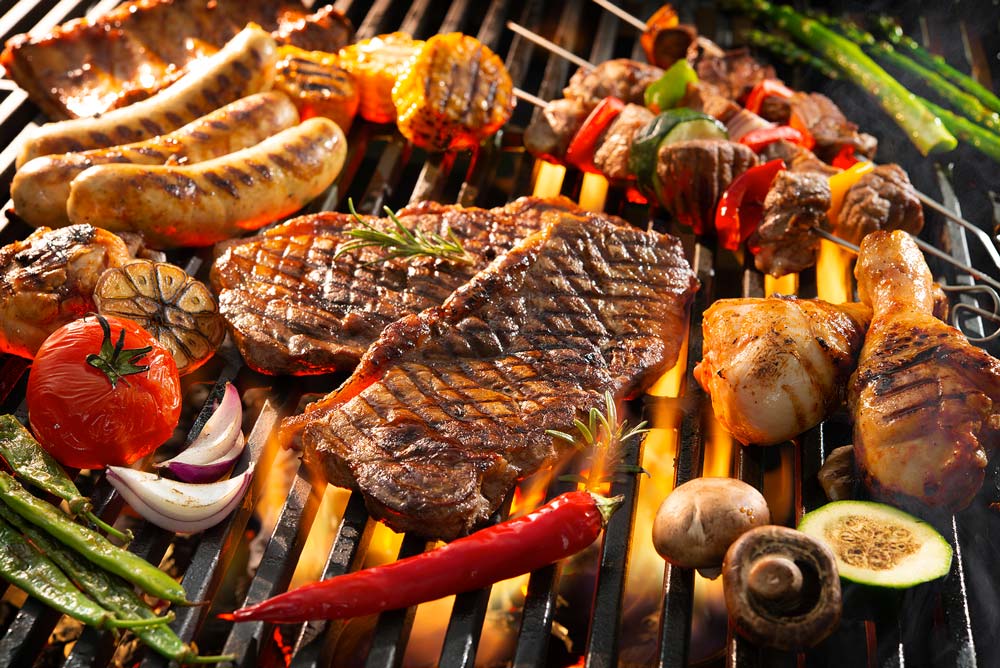 Nothing brings people together (while simultaneously breeding polarizing opinions) quite like barbecue. With regional styles abound, it's no wonder that the debate over whose BBQ reigns supreme is such a heated one.
If the simple mention of BBQ has your stomach grumbling and has you wondering, "where's BBQ near me," fear not—we have you covered. Click the "Use Current Location" button on the map above to see barbecue restaurants near you. Or, if you're looking for a specific type of barbecue, such as Korean BBQ or Hawaiian BBQ, read on to explore the embedded maps for those particular types of restaurants.
What makes good barbecue great?
Where is the best BBQ near me?
While there are many regional styles of barbecue throughout the US, and most of the greats have their own unique style that sets them apart from the crowd, there are still some basic things to look for when determining whether or not that BBQ joint down the street is worth your hard-earned cash. For those wondering "where is the best BBQ near me," we have a few recommendations for things you should look for.
They use a smoker with natural wood. The hallmark of American barbecue is meat that is slow-smoked at low temps. And the key to that smoky goodness is using real wood—we love hickory, oak, and pecan. Liquid smoke and other alternatives just can't replicate the smoky flavor that comes from using real wood.
The meat is the star. While interesting sauces and flavorful rubs are an essential component of American barbecue, the main star is the meat. Rubs should combine with the smoke to enhance the meat but not overpower it. And sauces should accentuate the meat's flavor, not drown it out.
They staff an overnight pitmaster. Tending a wood fire and maintaining the perfect temperature takes time and labor—something many restaurants want to cut back on. An overnight pitmaster is essential to maintaining the perfect conditions for developing that rich smoky flavor.
Classic side dishes. Coleslaw, baked beans, collard greens, mac-salad—if a restaurant is missing the quintessential sides, can they even say they have authentic American BBQ? While innovative fare is applauded, the best restaurants know that customers come for the classics.
Where are BBQ restaurants near me?
Some of the US's most common chain barbecue restaurants include Jim' N Nick's Bar-B-Q, Dinosaur Bar-B-Que, Mission BBQ, Dickey's Barbecue Pit, and Sonny's BBQ. However, there are many different types of barbecue from around the world, and we think they are all worth tasting! Read on for an introduction to some other types of barbecue you should try.
Korean BBQ near me
Where is Korean BBQ near me?
With BTS releasing one chart-topping hit after another and the rising popularity of Korean dramas, there's been a growing interest worldwide in Korean food. So if watching the characters of your favorite K-drama bond over sizzling pork belly and a bottle of soju has got you wondering, "where is Korean bbq near me," then we've got you covered.
Like American barbecue, Korean barbecue is all about the meat—most commonly beef, pork, or chicken. But instead of smoking large cuts of meat, Korean barbecue features thin slices of your favorite proteins grilled tableside—typically eaten wrapped in lettuce or perilla leaf with a dollop of spicy sauce or kimchi.
Depending on the cut, some meats are marinated while others are simply seasoned with a bit of salt and pepper before being grilled. And while pork belly is the most common, beef reigns supreme. Gas or charcoal grills are often part of the tables themselves, but some restaurants provide diners with small portable grills.
If your mouth isn't watering and you're not rushing off to the nearest Korean BBQ joint already, then keep reading for a brief introduction to some of the most common dishes you'll find at any Korean BBQ restaurant.
Galbi (short ribs) and bulgogi (thinly sliced sirloin, ribeye, or brisket) are both marinated before hitting the grill. The soy sauce-based marinade used for galbi and bulgogi is a delicious combination of savory and sweet. The saltiness from the soy sauce contrasts with the sweetness of the brown sugar, while the subtle aroma from the sesame oil provides a deliciously nutty aftertaste.
Dwaeji bulgogi (sometimes spelled "daeji bulgogi") are thin slices of pork that have been marinated in a spicy chili pepper sauce and charred over a grill. Like galbi and bulgogi, dwaeji bulgogi is eaten by wrapping it in lettuce or a perilla leaf and diving right in with your hands.
Buldak translates to "fire chicken." Unlike galbi, bulgogi, and dwaeji bulgogi, buldak is not grilled at the table in front of you but is prepared by a chef in the kitchen. This dish consists of chargrilled chicken, which has been coated in a spicy chili pepper glaze and is topped with melty, gooey cheese.
Ssam means "wrapped" in Korean. It refers to the lettuce and perilla leaves used as vessels to carry freshly cooked meat from the grill to your mouth. Along with the meat, you'll want to fill your ssam with a bit of sauce or side dishes for the full Korean BBQ experience. While it's tempting to stuff as much meat and sides into the ssam as possible, we recommend keeping the ssam bite-sized to prevent spillage.
Ssamjang (sauce) is a spicy sauce made from soybean paste, chili paste, garlic, onion, honey/sugar, and sesame oil. It has a salty and spicy flavor with a pleasant nutty aroma. Ssamjang pairs wonderfully with fatty pork belly and is traditionally dolloped onto a lettuce or perilla leaf before adding some freshly grilled meat and promptly shoving the whole thing into your mouth.
While the star of the show is the meat, an essential part of any Korean BBQ meal is the banchan (side dishes). These side dishes serve to prevent palate fatigue from the seemingly endless amount of meat. Typical side dishes include kimchi, kongnamul muchim (seasoned soybean sprouts), japchae (glass noodles stir-fried with vegetables), and chickin mu (pickled radish). You can also add any (or all) of the side dishes into your wrap to create your own unique flavor combination—we won't judge.
And, of course, no Korean meal would be complete without a serving of rice. So while rice is the main component of many Korean dishes, when it comes to barbecue, rice is more of a side dish and a means of soaking up all that greasy, meaty goodness.
Mongolian BBQ
Where is Mongolian BBQ near me?
Despite the name, Mongolian barbecue is not from Mongolia, and it's not really (technically) barbecue either. Originating in Taiwan, Mongolian BBQ involves cooking meat, vegetables, and noodles on large, solid iron griddles—making it more similar to stir fry or Japanese teppanyaki.
Mongolian BBQ is usually presented in a buffet style where diners choose their own raw ingredients and watch as a chef prepares them right on the spot. The most common ingredients diners can select from include vegetables such as cabbage, beansprouts, carrots, broccoli, and thinly sliced meats like beef, pork, lamb, chicken, and shrimp. The stir-fried meat and vegetables are typically tossed with noodles and the diner's choice of sauce before serving, but rice and even steamed buns are occasionally options as well.
Sometimes referred to as "Mongolian Grill," the most popular Mongolian BBQ chain restaurants in North America include Genghis Khan, BD's Mongolian Grill, and Great Khan.
Hawaiian BBQ
Where is Hawaiian BBQ near me?
The story of Hawaiian barbecue is one of tradition but also one of modern fusion.
Unlike what many movies and resorts may have led people to believe, pigs are not traditionally roasted on a stick over a coal fire in Hawaii. Instead, wild boars are cooked in underground ovens known as "imu"—a tradition brought to the islands from Polynesia.
Hawaiians use the term "kalua" for cooking in these underground ovens, with kalua pork being the most popular dish. Whole hogs are wrapped in banana leaves and cooked underground via heat-retaining volcanic rocks. While the leaves add a subtle flavor to the pig, the absence of smoke means that the pork is the most prominent flavor.
It's worth noting that the traditional form of barbecue may not be what comes to mind when someone invites you to "Hawaiian BBQ" for lunch. For example, the term "Hawaiian BBQ" was coined by the restaurant chain L&L and has come to mean a style of food also known as "plate lunch."
Plate lunch includes a large plate of meat, typically coated in a sweet and tangy sauce, served with rice, potato salad, and macaroni salad. And one of the most common meat options is, you guessed it, kalua pork. Other popular dishes include fried pork katsu, tangy chicken, and grilled spam and eggs—reflecting the islands' history as a melting pot.
This "plate lunch" style of meal dates back to the 19th century when plantation workers would bring bento boxes to the fields—filled with their favorite carb-heavy sides and, of course, meat. The Hawaiian BBQ sauces served up alongside the meat at many plate lunch restaurants include tropical flavors like pineapple, mango, or passion fruit and Asian ingredients such as soy sauce and sesame oil.
Popular chain Hawaiian BBQ restaurants on the mainland include L&L and Ono Hawaiian BBQ. Whether you're a traditionalist or prefer a more modern flair, both forms of Hawaiian barbecue are worth checking out.