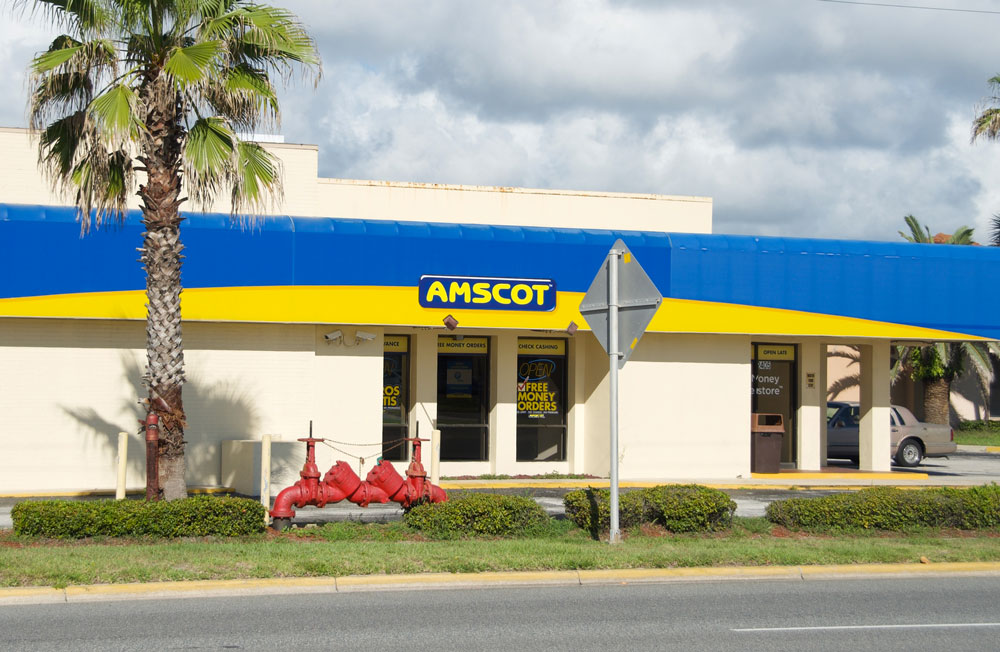 Amscot: The Money Superstore is a unique financial service provider that is open 365 days a year. Amscot provides a wide variety of financial services to its customers, including check cashing, money orders, cash advances, and much more.
Amscot's competitive rates and extensive hours set them apart from the competition. Their mission is to "provide convenient, accessible financial services to [their] valued customers through friendly and attractive locations, to treat each other with dignity and respect, and to contribute to the communities where [they] do business."
Read on to learn more about Amscot and the services they provide.
Amscot's History
In 1986, Ian MacKechnie moved to the U.S. from Scotland and opened a bakery in Tampa, Florida. As an employer, MacKechnie noticed the inconvenience his employees endured every Friday when they had to wait in long lines at convenience stores to cash their payroll checks. This experience gave MacKechnie the idea to begin a non-bank financial service that would make life more convenient for his employees and others like them.
Three years later, Amscot was established—the name is a combination of Scotland and America, paying homage to MacKechnie's past and present—where he came from and where he's going.
Amscot has now grown to be Florida's leading non-bank financial services company. They process over 31 million customer transactions a year, totaling more than eight billion dollars.
Amscot Locations
Is there an Amscot near me now?
Amscot boasts well over 200 locations, all of which are in the state of Florida. With so many sites in one state, you are sure to find an Amscot near you.
To find the location nearest you, scroll to the top of this page and click the "Use Current Location" button on the embedded 'Amscot Near Me' map.
If you're looking for a branch in a particular city or region, you can also head to Amscot's website. Once there, click on the "Locations" tab at the top to navigate to the location finder. Click on (or type in) your desired city or zip code, and it will populate a list of branches in the area.
Is there an Amscot ATM near me?
Amscot ATMs are conveniently located inside the lobby of every branch. You can withdraw up to $600 in $20 increments from the ATM for a flat rate of $2. Use the embedded map at the top of the page to find the branch nearest to you.
Amscot Services
Amscot offers the following services at their Florida branches:
Cash advance
Installment cash advance
Check cashing
Money orders
Prepaid Mastercards
Bill payment
Money wires through Western Union
Notary services
Fax services
Photocopy services
Purchase stamps and envelopes
Purchase Bus Pass or SunPass
Is there an Amscot Cash Advance near me?
Many people choose Amscot for cash advances (sometimes called payday loans) because there are no required credit checks, and Amscot has a fast approval process and some of the lowest fees in the industry. Through a cash advance, you can get up to $500 to help hold you over until your next paycheck.
To complete a cash advance through Amscot, you can go to the nearest branch, where a representative will assist you. If you're in a rush, you can begin the process before you even get to the branch by visiting their website and answering a few short questions. After you submit your answers, an Amscot associate will call you within 20 minutes to finalize details before you arrive at the branch.
Is there Amscot Check Cashing near me?
To cash a check, you can visit any Amscot location (find the one nearest you by clicking the "Use Current Location" button on the embedded map at the top of this page).
Amscot can cash checks of any amount, as long as you provide a valid government-issued photo ID such as a driver's license, military ID, or passport. They handle paychecks, government checks, insurance checks, tax refund checks, personal checks, out-of-state checks, cashiers checks, and traveler's checks.
Amscot boasts low check-cashing fees, claiming that, "We do it for substantially less than limits set by the state. For example, we cash payroll checks for up to 70% less than state limits, and government checks for 66% less!" adding that their fee schedules are posted in the lobby of every branch.
Is there an Amscot Notary near me?
If you have documents that need to be notarized, Amscot may be able to help. Amscot has a notary on staff who can quickly and efficiently help you with your documents.
For questions about details and pricing, you can contact your local branch or call 1-800-801-4444. When you go to your notary appointment, be sure to take a valid government-issued photo ID, all necessary completed documents, and a witness if necessary.
Where can I find Amscot loans near me?
Installment Cash Advance, also known as an installment loan, is available at all Amscot locations. Through this service, you can get anywhere from $100 to $1,000 without a credit check.
It's worth noting that Amscot offers flexible payment options when it comes time to pay that money back. If you'd like to learn more about Amscot loans, click here to be directed to their website.
Amscot Hours
Is there a 24 Hour Amscot near me?
Amscot hours of service vary by location. While many locations are open twenty-four hours a day, some have restricted hours. Stores with set hours are typically open from 8 a.m. to 9 p.m. on weekdays, and 8 a.m. to 8 p.m. on Saturdays, with Sunday having the most limited hours of 9 a.m. to 6 p.m.
Remember that in response to COVID-19, hours may have been adjusted for some locations, so it is always best to call before going to ensure they're open.
You can view Amscot's Branch Locator online, which will tell you what locations offer 24-Hour service.
Is there an Amscot open near me?
If you'd like to check a location's hours online, please visit their website and go to their Branch Locator, where you can search by clicking on a city or by typing in a zip code or location. Doing so will generate a list of branches in the area and showcase their hours of operation, address, phone, fax, and a list of services offered.
Contact Amscot
If you need to speak with an Amscot customer service representative, you can call their toll-free number, 1-800-801-4444, and follow the instructions to be connected with the appropriate person.
You can also get a direct phone number for a specific department or send an email inquiry by visiting their contact page online. Finally, you may also view their "Frequently Asked Questions" page to find answers yourself.
Amscot Jobs
In 2017 Forbes Magazine named Amscot Financial one of America's Best Midsize Employers, and the Tampa Bay Business Journal named it one of the Best Places to Work in 2012. Amscot offers its employees health insurance, paid time off, and other benefits, including paid training.
Amscot says that "If you are bright, motivated, and hard-working, Amscot may have an opportunity for you."
They are constantly looking for associates to join the booming business. They show preference to individuals with restaurant and or retail or customer service experience. A high-school diploma or GED is required, and you must demonstrate basic math skills and customer service skills. Bilingual persons are also highly sought after.
Within the company, there are many opportunities for growth as they strive to promote within whenever possible.
If you're interested in applying, visit their recruitment page here.